Over
15 Years

of Experience in Serving People
Established in 2005, Prestige Detection Systems Ltd.(PDSL) is a leading supplier of Fire, Security and Emergency Response Systems to businesses and community service providers throughout Ireland. We have extensive experience across a wide range of industry and we adhere to the system design and installation requirements of any projects we are involved in.
Companies We Have as Clients
Expert Team Members
Dave Enright
With over 35+ years in the business, Dave has a wealth of experience in the Fire & Security Industry. In his role as Managing Director, he is responsible for driving business performance across all areas of operation. Dave's primary responsibility is the enhancement of the team's capabilities, with the aim to continually improve the customer's experience. He supports all areas of the business and acts as a point of contact for all customers, regardless of scale. Prior to forming Prestige Detection Systems in 2005, Dave has previously held positions with Siemens Building Technologies, Preussag Fire Protection and Kidde Fire Protection.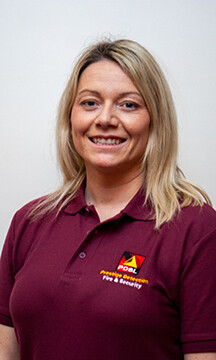 Frances Meehan
Frances is our Key Accounts Administrator here at PDSL. and she has been with the company since 2014. Frances has a Degree in Mathematics from University College Cork and graduated with Distinction. She is also a member of the Chartered Accountants Association of Ireland (ACCA). Previous Companies that Frances has worked for include Masterchefs Hospitality and Greenspan Products & NCW Surveys. Frances plays a vital role in organising and monitoring the business budgets and cashflows and manages our business CRM and ABM operating systems.
Dave Hayes
Dave Hayes joined the company in 2008. Dave has 30+ years' experience in the electrical industry, having previously worked in Barcelona in the run up to the 1992 Olympics and several other large projects based here in Ireland. Dave's key responsibility upon joining the company was to manage and develop our service customer base.
Today, Dave is our Senior Projects Engineer, liaising with Consulting Engineers, Electric Contractors and End User Customers
Dave is technically and financially responsible for delivering large scale projects on time, within budget, but without compromising safety and quality.
Bertie Kelly
Bertie trained in the electric industry of Ireland. After completing his training the travel bug led him to Australia where he worked in the fire industry for a number of years. In Australia he worked on large scale installation projects. On leaving Australia he travelled to the UK, basing himself in London. Here he gained experience in key account management looking after high profiled clients for his employer. In 2019 he returned to Ireland and joined PDSL. He is now a valued member of the service team and indeed manages our growing list of service customers ensuring that their systems are maintained to, and comply with the relevant I.S. standard. Bertie also manages any works arising from reactive or preventative maintenance visits.
John Collopy
As the Fire Division was standing firmly on its own two feet by early 2013, Dave Enright decided the time was right for the Security Division to expand and John Collopy was brought on board. John has extensive experience in all things security, from intruder alarms to wirelss access control to IP CCTV systems, having spent 20+ years in the security industry. John's primary roles are to grow the security division, support the service of fire and security clients and manage security projects, such as the recently completed project for Kerry group.
Anthony McEnery
Anthony joined our Service Administration Team in 2017. His primary role is to support the service team with Service Planning and Fault Call Management. Anthony has a background in Electronic Engineering. Having previously worked with Fisons Scientific and Neltronics. He has many years of experience in the Manufacturing Industry, having worked for Ballygowan Spring Water. In conjunction with Liam O Brien he is a contact point for many of our valued customers.
Liam O'Brien
Customer Care Executive
In early 2012 as the business expanded, the company found itself needing an office based team member. Liam joined us with his primary roles being financial management, procurement and administration. Liam is responsible for ensuring stock levels are kept at above minimum level, accounts payable and receivable and the day to day running of the office
Conor Keating
Conor joined PDSL in May 2017 from Kirby Engineering Group. While with Kirbys he achieved his Electrical National Trade Certificate. He worked on the delivery many high end projects with "Blue Chip" clients. Projects in Roche, Procter & Gamble, Regeneron and Analog Devices, to name but a few. Since joining PDSL he has assisted Dave Hayes with the delivery high end Fire Alarm projects. Works to-date have been in Wyeth Nutritional, Analog Devices and Stryker Orthopaedics & Merck Group. Conor has completed his course in Electrical and Electronic Engineering in the Limerick Institute of Technology.